Is it time to say goodbye to 'Ask Jamie'? Inside GovTech's refresh of government chatbots
Singapore's Government Technology Office (GovTech) has embarked on an ambitious refresh of all government chatbots, with the aim to migrate all existing chatbots over to LLM-powered engines by the end of 2023. GovInsider speaks to Daniel Chong, Principal Product Manager, Moments of Life, at GovTech, to learn more.
The ubiquitous 'Ask Jamie' chatbot found on government websites in Singapore may soon be no more. Image: GovTech Singapore
Singapore's most recognisable government representative may soon be on her way out. The instantly identifiable 'Ask Jamie' chatbot – which can be found on over 70 websites – is slowly disappearing, with new faces appearing in her stead.
But Daniel Chong, Principal Product Manager, Moments of Life, at Singapore's Government Technology Agency (GovTech), shares that Ask Jamie's disappearance has nothing to do with the agency's overhaul of government chatbots, the Virtual Intelligent Chat Assistant project, which aims to shift all chatbots to large language model (LLM) engines by the end of 2023.
"Ask Jamie is simply the name of the chatbot that the respective agencies choose to use. Agencies can choose to retain this branding once they transition over to VICA," explains Chong in an interview with GovInsider.
Responding with agility to emergence of LLM technologies
Even though 'Jamie' may continue fronting some of our government websites, these chatbots – which span government websites, WhatsApp and Telegram channels, and internal government portals – will soon undergo a radical change, as they shift from rule-based engines to LLM engines.
Interest in LLM technologies reached a fever pitch last November when ChatGPT, a chatbot built on LLMs developed by OpenAI, became available for public use. Upon release, it quickly became the fastest-growing consumer software application in history according to Reuters.
The runaway success of the application triggered an AI "arms race" amongst big tech companies, many of which quickly accelerated the development of their own LLM engines.
Similarly, GovTech pivoted plans to upgrade government chatbots in light of the hype around ChatGPT, shares Chong.
"We were looking at the technology in June of 2022. The real hype crested around December, right when ChatGPT was launched. Initially, we wanted to make sure that the transition was as seamless and as painless as possible for our agency customers.
"But when the 'hype train' came in and everybody was clamouring to try the latest thing, we accelerated our plans and we got ourselves ready to roll out VICA. Since there was demand, we decided okay, let's try it," says Chong.
He explains that the team was in the process of developing visual conversation builders prior to the shift to LLMs when they decided to pivot. What was that process like?

"From a personal standpoint, I had to explain to my team why the pivot was necessary and the benefits of LLM technology in our use case. It's about communication," says Chong.
"Getting to the bigger goal sometimes means that we will need to pivot and be receptive to new ways of doing things… I think that's the good thing about not only the people but the organisation of GovTech as well. We are geared towards agility."
How LLMs will improve government communication
Through LLM-powered chatbots, GovTech hopes to support agencies in providing more personalised answers to citizen queries, while spending less manpower and time on more straightforward questions, says Chong.
This will then free up time for contact centre staff to support citizens who have more unique or complex queries.
"Imagine a citizen who has been working overseas for two months, then three months in Batam, and then four months in Singapore. How can he break down his income tax? This is where a human can step in to provide better assistance," he says.
Next, LLM engines can reduce the amount of human effort and time required to train, maintain, and update chatbots, explains Chong. Prior to LLMs, staff had to manually develop up to 10 to 15 different ways of asking the same question so that rule-based chatbots could respond to different phrasings.
In contrast, LLM-powered chatbots chunk pre-developed question and answer pairs into vectors, which can then be compared against questions posed by citizens. Thanks to the vast amount of semantic data stored within the LLM, the artificial intelligence model can locate the correct answer regardless of how the question is phrased – even if it is in Singlish.
Now, GovTech is developing an LLM-powered Q&A generator, he says. Such a generator will be able to extract potential question and answer pairs from government documents, such as PDFs and websites. After being reviewed by a human, agencies can add this content to their knowledge base and expand what the chatbot can respond to.
Keeping a human in the loop is one key way that GovTech ensures that these chatbots remain trustworthy.
GovTech also plans to introduce a scoring system to rate answers that can help agencies identify cases in which the chatbots may have provided an inaccurate or unhelpful answer. The chatbots will also be able to cluster questions that cannot be answered together so that agencies know what kind of information should be added to the knowledge base, he says.
Finally, the team is looking into developing "transaction-based" chatbots, which could allow end-users to fill up forms or book rooms in community spaces through the chatbot, he says.
Collaborating with agency customers and the private sector
Thus far, 21 out of 88 government chatbots have been converted to the new LLM engines, shares Chong. The team aims to convert the remaining chatbots by the end of 2023.
Chong explains that GovTech works with government agencies over a period of months to test prototypes and refine their chatbots, using analytics and agency feedback to fine-tune their virtual assistant.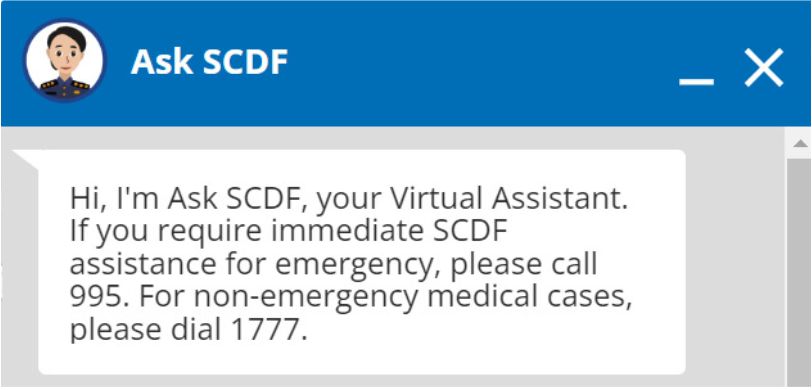 "The upgrade has improved the chatbot's performance by generating more accurate responses and suggestions for users. The ease of information retrieval is enhanced with easy Q&A labels and an unlimited knowledge base to answer more user queries. The VICA team has also been very helpful and responsive," says a representative from Singapore Civil Defence Force (SCDF). The SCDF chatbot, 'Ask SCDF', can be found on their official website.
The team also works with tech providers, such as Google's Vertex AI platform and Microsoft Azure's OpenAI Service, to tap on the LLM engines they have developed.
Representatives from GovTech previously shared with GovInsider that public-facing chatbots are engine-agnostic and can tap on tools developed by tech providers through the Government Commercial Cloud 2.0, while internal chatbots have been developed on Google's Vertex AI platform through the Artificial Intelligence Government Cloud Cluster (AGCC).
They also work with third-party players who support chatbot integrations with WhatsApp and Telegram, says Chong.
Read also: Three ways foundation models promise to put generative AI to work for governments