Applied Learning Conference returns!
By Singapore Institute of Technology
Hear from global education leaders on what the future of education could look like, from integrating generative AI into education to adopting competency-based education as a new form of learning, on 20 and 21 July.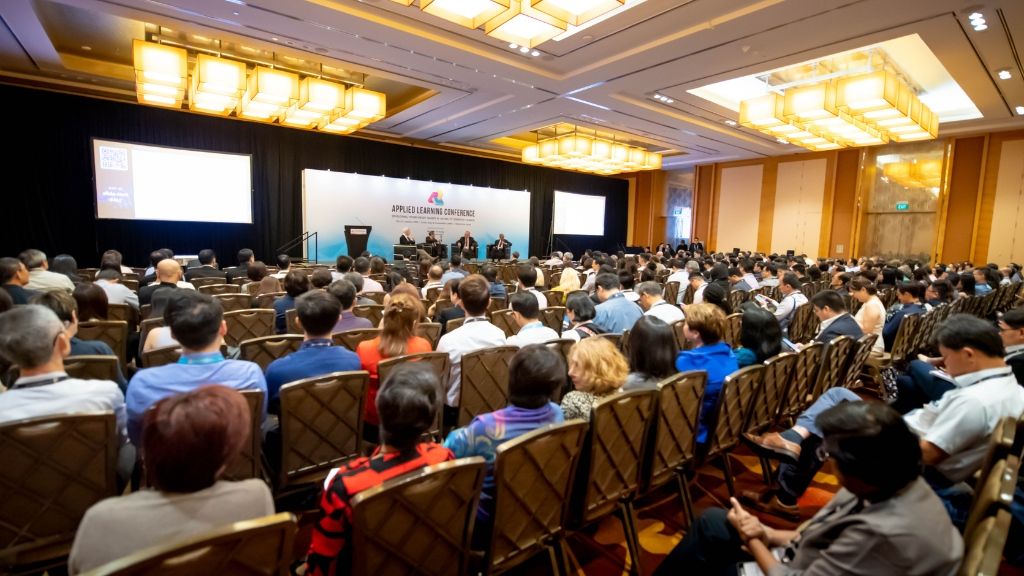 The biennial Applied Learning Conference gathers educational leaders from across Singapore and the rest of the world to push the envelope of applied learning. Image: Singapore Institute of Technology
The Applied Learning Conference (ALC) returns for its fourth iteration from 20-21 July at the Marina Bay Sands, Singapore.
Organised by the Singapore Institute of Technology (SIT) in partnership with the Competency-Based Education Network (C-BEN), this year's conference is themed "Advancing Applied Learning and Competency Development in the Digital Age" and seeks to explore the latest trends and approaches to advance applied learning.
With rapid digitalisation catalysed by the pandemic, workplaces today have an unparalleled demand for digitally-skilled talents across different industries. A recent Korn Ferry report predicted a shortage of more than 85 million tech workers by 2030. Left unaddressed, that's 85 million jobs unfilled simply because there are insufficient skilled workers.
The conference seeks to highlight the new methodologies and technologies that will upskill the workers of today and tomorrow. From the role of Generative AI in education to addressing Asia's education-to-employment landscape, attendees will hear from organisations and educational leaders across the world on the future of education.
"The conference highlights how education technology can enhance learning outcomes and train competencies. It is equally vital that new ways and methods of assessing are adopted, that will authentically reflect the learner's true mastery of their new skills and competencies," said Dr May Lim, Associate Professor and Assistant Provost (Applied Learning), SIT.
A deep dive into competency-based education
Headlining the event as the keynote speaker is Dr Charla Long, President of C-BEN. A competency-based education (CBE) approach focuses on assessing students on their mastery of skills instead of time- or grade-based milestones, Dr Long previously explained to GovInsider.
Such an approach encourages institutes of higher learning to focus on equipping students with the skills and knowledge needed to thrive in the working world, as opposed to focusing on fixed academic calendars or paper grades.
At last year's conference, Dr Long emphasised that effective academic programmes involve understanding what employers seek in graduates. This year, attendees at the conference have the opportunity to hear from Dr Long and other industry leaders on how CBE can bridge this industry-academia gap.
Another notable speaker, Dr Barbara Bichelmeyer, Provost & Executive Vice Chancellor and Chief Learning Officer, University of Kansas, will share how she advocates for the adaptation of higher education to meet the demands of the digital age.
Meanwhile, Dr Koh Noi Sian, Senior Lecturer, School of Information Technology at Nanyang Polytechnic will explain how competency-based approaches can align with industry needs. She will also highlight the importance of developing in-demand skills and competencies to stay relevant in a digital era.
In addition, Dr Jeremy Fox, CEO, Asia-Pacific and Board Chairman of Generation: You Employed will share inspiring success stories and insights from Generation's work, which focuses on supporting needful individuals through rapid bootcamp training and placement support into jobs.
Dr Fox will delve into the secrets behind Generation's success, which has seen the organisation achieving upwards of 90 per cent job placement rates through a curriculum built in collaboration with their employer partners.
From the organisers themselves, learn about SIT's Competency-based Stackable Micro-credentials (CSM) pathway, which helps working adults to continually upgrade themselves and stay relevant in the industry.
SIT offers micro-credentials that in-employment learners can stack towards a degree, granting them the flexibility to juggle between their job, family and studies. With such programmes, in-employment learners have more opportunities to upskill and reskill themselves to better suit their job requirements or to assume new roles in the future.
"Employers are increasingly focused on the skills and competencies that employees can bring to the table. Organisations see the tangible benefits that CBE brings when it comes to upskilling their employees and advancing professional development that will meet evolving business needs and outcomes," explained Dr May Lim.
New tech for a new world
Generative AI has been the talk of the town since the launch of ChatGPT in November last year. Speaking on the integration of generative AI into education is Dr Karin Avnit, Deputy Director of the Centre for Learning Environment and Assessment Development (CoLEAD) at SIT.
Acknowledging the benefits of generative AI in enhancing teaching and learning, improving student support and reducing administrative loads, Dr Karin will delve into SIT's approach to generative AI and share lessons and takeaways from the university's experiences and experimentation thus far.
Besides generative AI, attendees at the conference can also discover the use of other cutting-edge tech and how they contribute to the applied learning environment. This includes sharing on the use of data analytics for more personalised learning and responsive teaching, the integration of chatbots and more.