How does Singapore stay so clean?
Interview with Tai Ji Choong, Director, Department of Public Cleanliness at Singapore's National Environment Agency.
Images: National Environment Agency
Doctors in the 17th century wore masks filled with sweet-smelling flowers to protect themselves when treating patients who had the plague, and swamps were drained regularly to remove bad smells. For centuries, people believed that diseases were spread through foul air.

Today, we have drastically different measures for maintaining public hygiene, since we have a much better understanding of how diseases are transmitted. With the highly contagious coronavirus, governments have stepped up the cleaning of public spaces to limit its spread and protect citizens.

GovInsider speaks to Singapore's Director of the Department of Public Cleanliness at the National Environment Agency (NEA), Tai Ji Choong, to find out how the team is protecting the nation from the coronavirus.

The new normal for public hygiene

The pandemic has redefined many parts of everyday life, including and perhaps especially public hygiene. How will Singapore deal with public sanitation issues going forward?

The goal is to make these new, higher standards "the new norm", Masagos Zulkifli, Singapore's Minister for the Environment and Water Resources, told the press in March this year. On the ground, "we can expect premises to continue with stepped-up cleaning measures beyond Covid-19," says Tai.

NEA has put in place various initiatives to encourage better public hygiene. The first of these is the SG Clean campaign, which aims to raise hygiene standards and rally the public to do their part to keep Singapore clean. A key component of this campaign is the SG Clean quality mark, a certification that demonstrates a premise's commitment to high cleanliness standards.

The SG Clean quality mark comes with a set of sanitation checklists that govern areas such as management oversight, cleaning methods and toilet cleanliness. These checklists are "tailored" to each business's operations, says Tai.

This mark is being progressively rolled out to premises with high human traffic, he shares. This includes hawker centres, public transport stations, schools and shopping malls. Over 14,000 premises in Singapore bear this mark, making clear their commitment to safeguard public health.

The second initiative is a new environmental sanitation regime, which NEA will implement from 2021. This new regime makes it compulsory for public spaces to meet environmental sanitation standards set by the government. The regime will first be implemented in higher-risk premises with higher traffic and/or vulnerable groups, such as hawker centres, eldercare and childcare facilities.

The third initiative is a public toilet overhaul. "Good toilet design is a cornerstone to improving public toilet cleanliness," notes Tai. NEA will subsidise the redesigning of toilets at hawker centres and coffeeshops with ageing infrastructure. This will make adopting new tech, which could increase the productivity of toilet cleaning, easier.

Tech to keep Singapore clean

NEA is also looking to tech to keep Singapore clean. "Given the size of public areas that are covered by [the Department of Public Cleanliness at NEA] for public cleaning works, it is important that our officers are able to audit the cleaning service providers effectively, and monitor their performance," Tai explains.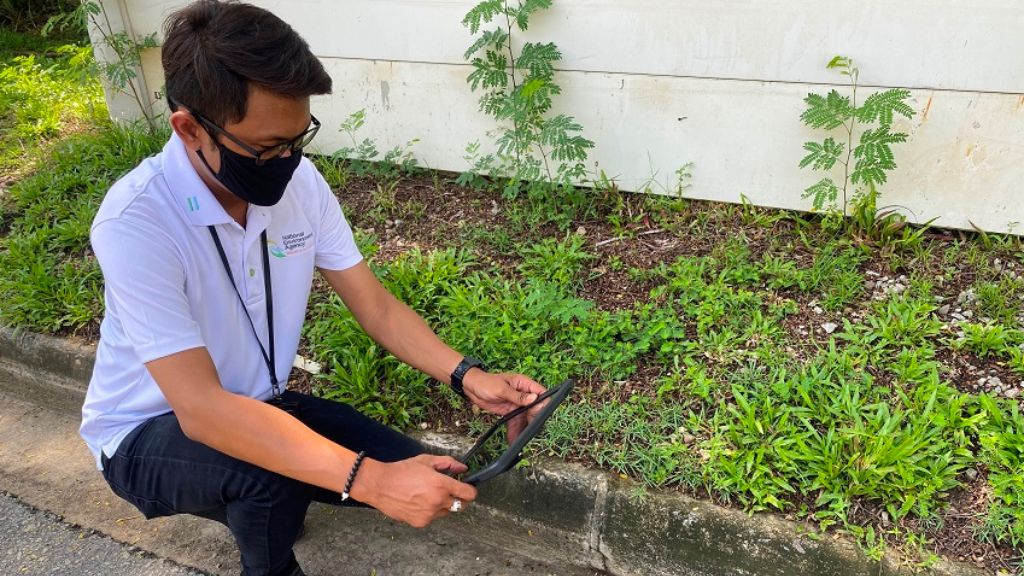 Mobile applications can make this process a lot faster and easier. Field officers can submit reports of cleaning lapses through their phone as they go on their audit inspections.


NEA uses sensors to monitor how full public rubbish bins are. Cleaners receive alerts to empty the bins whenever they are almost filled to ensure trash is cleared away in a timely manner. Officers also use this data to schedule bin clearing and find the best spots for bins in public spaces.

To monitor the mechanical sweepers and cleaning vehicles that tend to Singapore's roads, NEA uses a combination of GPS, mounted cameras and sensors. This system allows officers to track their route and monitor their cleaning performance, shares Tai.

Gloved and ready

For any sanitation department, a good grasp of basic microbiology and how microorganisms are transmitted is crucial, Tai says. NEA designed a specialised course with Singapore Polytechnic in 2017 to teach officers updated disinfection techniques and safety procedures. This "proved critical" when the team was alerted to the first Covid-19 case earlier in the year, he notes.

Pilots, doctors and police officers are no longer the only ones who train with simulations - public cleanliness staff do too. NEA staff undergo regular table-top and simulation exercises to prepare them for all sorts of scenarios, including an infectious disease outbreak. This ensures everyone on the team, from operations to communications, is prepared.

On their toes

The preparation paid off. Within days of Singapore's first reported Covid case, NEA released detailed guidelines on disinfecting areas that may have been exposed to the virus. These included advice for both homes and non-healthcare public spaces.

The agency also published a list of recommended disinfecting agents, along with an advisory explaining the effectiveness of different cleaning methods and the necessary precautions to take. Besides sharing clear guidelines on how to disinfect exposed areas from the virus, officers from the Department of Public Cleanliness at NEA visited the impacted premises to oversee the cleaning process and provide guidance, Tai shares.

Public hygiene has perhaps never mattered as much as in a pandemic. For Singapore, clear standards on maintaining cleanliness in public spaces, and tech to help officers understand on-the-ground happenings, will continue to safeguard citizens' health.