How novel foods are bolstering Singapore's food security
Countries are looking to introduce cultivated meats to bolster food security, but concerns around safety remain high. Here's how Singapore works to ensure the safety of these novel foods to boost Singaporeans' confidence.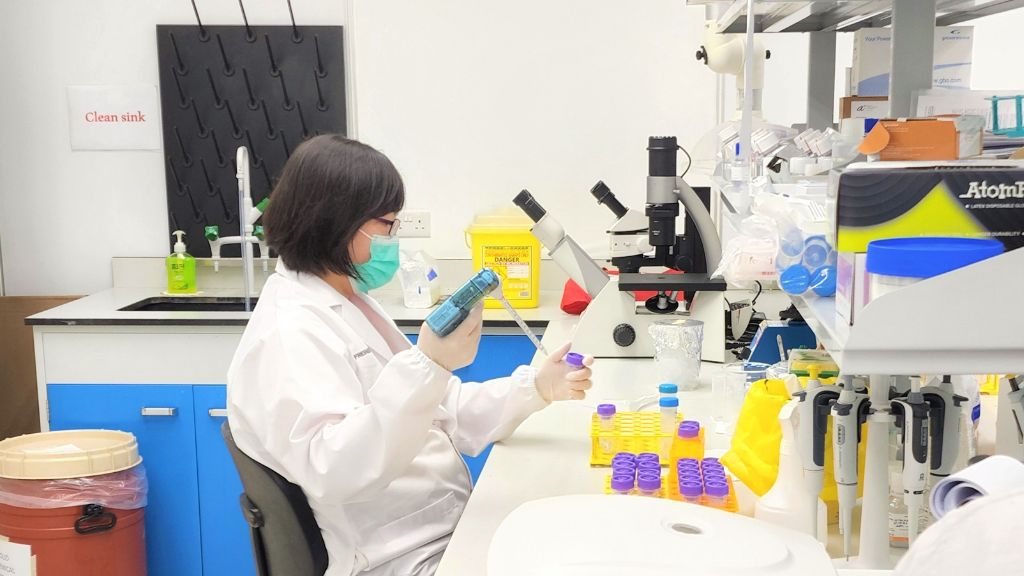 Singapore's Food Safety and Regulatory Hub (FRESH) works with the Singapore Food Agency to assess novel foods and support the country's "30 by 30" food security goal. Image: FRESH.
Soon, Singaporeans may be crunching on silkworm cocoons or munching on flavoured cricket protein bars. Last week, the Singapore Food Agency gave the green light for 16 insect species, such as crickets, silkworms and grasshoppers, to be available as food sources in Singapore.
According to an article by the Straits Times, SFA held a public consultation exercise in 2022 on the regulation of insect products to better understand public perception, and concerns remain that demand will stay low for the time being.
Being a small city-state, Singapore's food supply is constantly fazed with the island's finite resources. With a mere 1 per cent of land that can be utilised for production of food, over 90 per cent of Singapore's food is currently being imported.
The government is actively mapping out solutions to secure Singapore's food sources in the long run. The Singapore Food Agency (SFA) has put forward the "three food baskets" strategy – the need to diversify Singapore's food sources, fortifying homegrown food sources and exploring opportunities to grow food abroad.
This is where novel foods come in. Novel foods have the potential to help Singapore further diversify food sources and bolster food-scarce Singapore's food security, but public perception around novel foods have to be managed carefully if such foods are going to make an impact.
GovInsider speaks with Dr Benjamin Smith, Director at Food Safety and Regulatory Hub (FRESH) & the Agency for Science, Technology, and Research (A*STAR)'s Innovations in Food & Chemical Safety Programme to understand how the country regulates novel foods and manages public perception.
How regulating novel foods work
Singapore is one of the first countries to have approved the sale of serum-free cultivated meat for consumption, having done so in January 2023. Cultivated meat is a novel food, which refers to anything that contains food or food ingredients that do not traditionally have a history of safe use.
The well-known Impossible meat serves as a classic example of a novel food.
Although the majority of the product is made using standard plant proteins, the addition of a novel ingredient – "soy leghemoglobin" derived from a part of the soy plant that is not traditionally consumed, classifies it under the novel framework, explains Smith.
"Even though the bulk of the food is made up of ingredients that are commonly consumed, it would categorise the entire Impossible meat as a novel food," says Smith.
Smith notes that Singapore's approach towards assessing novel foods is similar to countries like the United States and Europe. What differentiates the local novel food regulation framework boils down to how such foods are assessed based on the ingredients and process to evaluate the safety of the end product.
The SFA works closely with FRESH to develop a framework for regulating novel foods in Singapore with the aim of supporting the nation's "30 by 30" food security goal. FRESH is a joint alliance by SFA, A*STAR and Nanyang Technological University that works to proactively build Singapore's capabilities in food safety and risk assessment science.
FRESH collaborates with SFA to assess the approaches used for food safety assessment and the relevant regulatory frameworks. "When it comes to novel foods, there is some uncertainty surrounding some of the processes that are used. There are some new types of chemicals and cell media which are things that would not be normally found in food." says Smith.
As Singapore ramps up its efforts to address food security, new processes, types of chemicals and cell media are continuously explored and introduced which can result in uncertainty amongst consumers.
Managing public perception around new foods
Smith notes that it will be important to raise consumers' awareness about the need to introduce novel foods to the local food scene, the potential nutritional value of such foods, and the different types of proteins and processes involved.
To tackle the growing uncertainty, Smith explains that it requires being open with consumers regarding the processes and fostering the understanding of the origin of the food whilst being transparent about the various risks associated with the different ingredients used.
"It's really about showing consumers that a lot of effort goes into understanding the safety of these products and making them confident that we're looking at these things the right way," says Smith.
"When looking at why we are bringing novel foods to the market, there are many factors to consider. Are they more nutritious? Would it be more sustainable? Is it going to help us with food security?" Smith notes.
Smith explains that although novel foods may not be nutritionally equivalent to traditional food products, they can be potentially optimised to provide the necessary nutrition or to offer a handful of other benefits.
Why novel foods will be critical to food security
The Russian-Ukraine war also highlighted the need for a small island nation like Singapore to strengthen its food security. When consumer food prices increased worldwide in 2022, Malaysia banned its chicken exports, leading to higher costs and tighter supplies for Singapore's chicken suppliers, who previously exported over a third of the country's chicken supply from Malaysia.
To diversify the nation's food sources, one such solution would be to explore cultivated meats.
While traditional meat and traditional agriculture will no doubt remain a crucial source of food in the long term, it is crucial to scale down reliance on traditional meat and flesh out how cultivated meats can complement these conventional food sources. Furthermore, lab grown meat can fortify Singapore's homegrown food resilience efforts.
Food security is crucial for an island nation like Singapore, especially during uncertain times where the food supply system can possibly shut down easily. As such, FRESH works towards a common goal of bringing solutions to food security while doing it safely.
FRESH supports companies by building the right talent for industry and helping companies navigate the changing regulatory frameworks around novel foods, so that they can generate the right type of data for assessing the safety of their food products.
Cross-communication between key stakeholders such as industry, consumers, and regulators will be critical to ensuring that safe, healthy, and nutritious novel foods can play a part in meeting Singapore's food security needs.