GovInsider Live - ASEAN (Digital)
To watch the sessions live, please go to "Videos" tab and click on the video. If you face any technical issues, please get in touch with us through chat or email at info@govinsider.asia.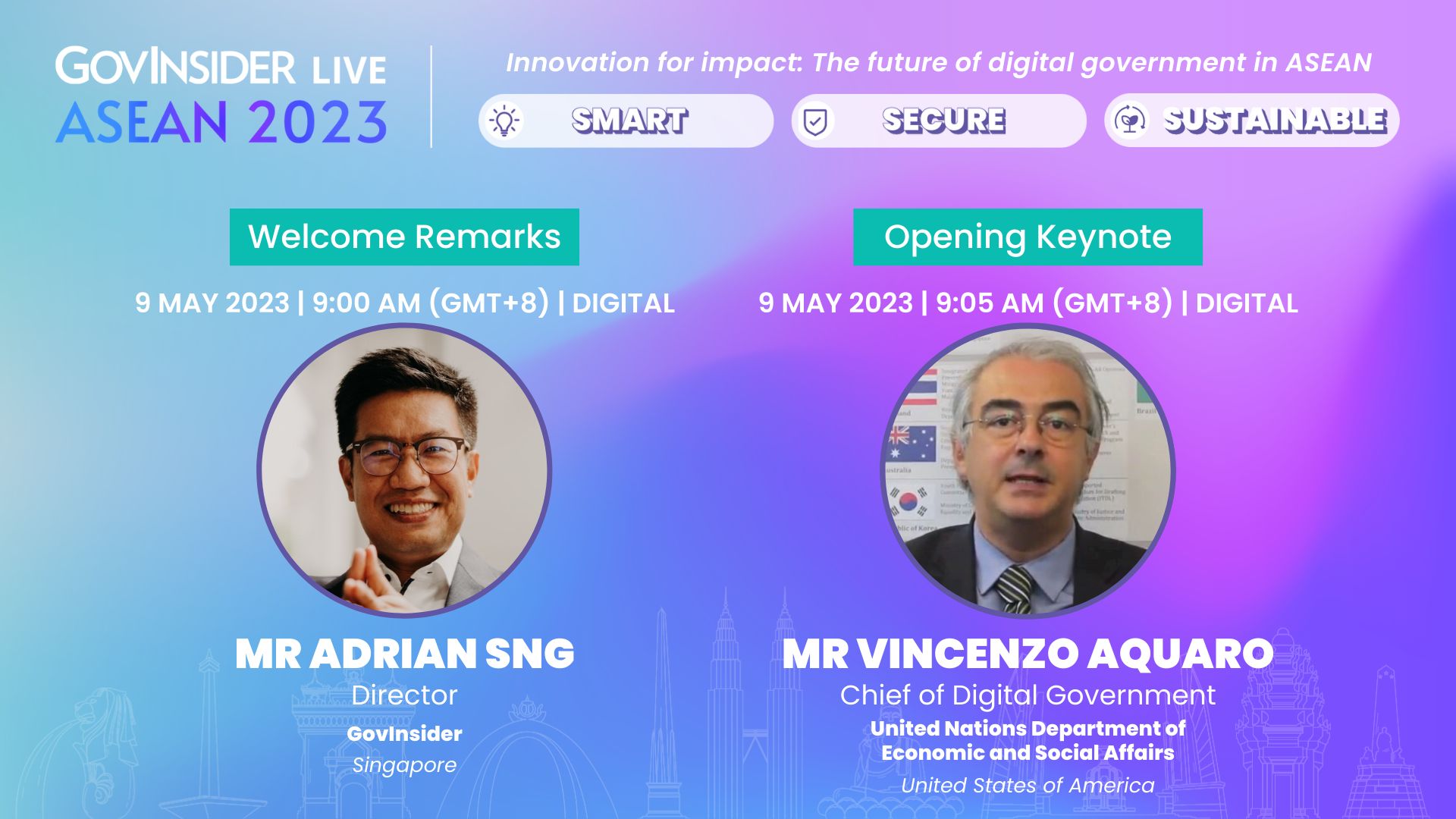 Welcome Remarks and Keynote
Welcome remarks by Mr Adrian Sng, Director, GovInsider.
Opening Keynote by Mr Vincenzo Aquaro who will share his insights about the future of digital government and shed light on how the Sustainable Development Goals (SDGs) can guide us towards a hybrid digital future where no one is left behind. Additionally, he'll be sharing the latest findings about e-government development in ASEAN countries.
View details
Enter Society 5.0: Sustainable, inclusive, digital
Climate change, growing economic competition internationally, and unstable supply chains plague the world today. These challenges bring with it the promise of an uncertain future, and society needs to evolve to be able to meet these challenges head-on. First introduced by Japan, Society 5.0 is also known as the 'super smart society'. It imagines a world where cyber and physical are intimately intertwined, with digital technologies like big data analytics, AI, IoT and robotics augmenting daily life to create a more sustainable and inclusive world.

This session will invite policymakers to explore what Society 5.0 will look like in their respective countries, the challenges that lie in their way, and uncover the steps that governments need to take to transition from Industry 4.0 to Society 5.0.
View details
Building a climate-resilient ASEAN
Climate related hazards such as floods, typhoons, droughts, heat or cold waves and storm surges have affected over 57 million people in Asia Pacific, including Southeast Asia. Not only threatening lives of the most at-risk populations, these hazards also have ripple effects on community livelihoods, which can strip away income and food security. Over the last 50 years, Asia alone has accounted for half of the world's economic losses from natural disasters, amounting to more than US$ 1.3 trillion.

As one of the most productive agricultural baskets in the world, ASEAN countries need to adapt quickly and appropriately to rising climate threats. Existing ASEAN policies and frameworks, in particular the ASEAN Agreement on Disaster Management and Emergency Response Work Programme 2021–2025, provides concrete entry points for advancing anticipatory action and offer opportunities for further alignment and integration within disaster risk management systems. This panel will explore how data, research, policy will come together to address the imminent climate risks that ASEAN will face.
View details
Cyber cooperation: Key to a successful cyber strategy
In 2022's Global Cybersecurity Index released by the International Telecoms Union, Malaysia came in eighth out of 194 states and has been deemed a "quiet leader in cybersecurity". What the country lacks for in a skilled cybersecurity workforce, it makes up for with a solid national strategy and leveraging on a strong network of allies.

What can other countries in the region learn from Malaysia's example, and what strategies has the country employed to maintain a strong cybersecurity posture? This session will gather cybersecurity leaders to discuss how to enact a successful cyber cooperation strategy and the path forward for cyber cooperation in ASEAN.
View details
A just transition into digitally enabled workforce
ASEAN has one of the fast growing digital economies in the world, with the internet economy being on track to account for US$360 billion by 2025. Yet, the region struggles with a shortage of an estimated 47 million tech talent by 2030, in a 2022 Digital Talent Insight report. More than 50 per cent of APAC chief executives found it difficult to hire digital talent with the right skills, the same report found.

An undercurrent of this digital talent gap is the inefficacies of the education sector that focus on reskilling employees by a "just-in-time" model. Additionally, women's participation in the digital economy has been found to lag behind, leaving men and larger corporations to dominate the industry. This panel will explore ways in which the region can enhance the exchange of knowledge, adapt its education sector, and find new indicators to monitor ASEAN's digital economy in order to address the digital divide in the region so that nobody gets left behind.
View details
Government superapps: potentials and pathways
In 2022, the Malaysian government announced that they had over 200 government apps, with the country's former Deputy Minister of International Trade and Industry highlighting the abundance of seemingly redundant and under-used apps. Indonesia's Ministry of Communication and Information vowed to merge around 24,000 government apps into just eight apps, which they call 'Super Apps'.

Can Super Apps be the key to solving the problem of overabundant apps, and how do we ensure they remain effective? This panel will gather digital government leaders and experts to discuss the role super apps and life apps can play in driving digital public services and consolidating numerous apps.
View details