How Singapore is reshaping the civil service with robots
The Public Service Division's Mavis Tan has worked with agencies across the government to introduce a new way of working.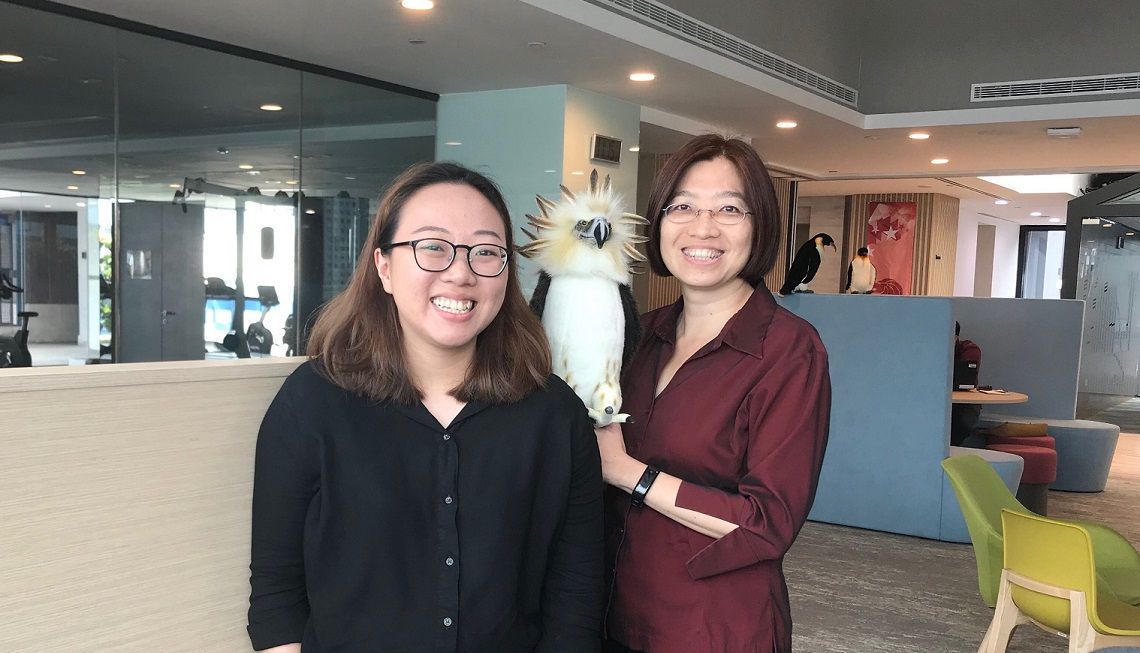 All your colleagues are gathered around to celebrate a teammate's birthday. She's fairly new in the team, so it's important to make her feel welcome. There is just one thing that is different: your new colleague is a robot.

Over the last year, Singapore has been introducing robotic software in government agencies to take over civil servants. This is a tool called Robotic Process Automation (RPA) and has been quietly but fundamentally reshaping civil servants' jobs.

The idea was introduced in the Singapore government by Mavis Tan (above right), Deputy Director of the Engineering Programme Office, Public Service Division. GovInsider caught up with her to discuss how it is making a difference.

How does it work?

RPA is used to automate high-volume, repetitive, and often tedious tasks so that humans can devote more time to complex work, says Tan. It includes things like sending out mass emails, analysing data, and collating regular reports. "Officers will have more time to do higher value things, things that are more challenging, meaningful and fulfilling," she adds.

It works by mimicking human actions on a computer - for example, taking data from a spreadsheet and placing it into an email template. Over time, it learns the rules to do this and can eventually complete the task without human intervention.

While RPA is widely used in the private sector, many in government were not familiar with it. "When we first started out, we realised that not many agencies had heard of RPA, or knew what it could do for them," she says. "At the whole government level, what we sought to do was to then develop, approve and showcase test cases here - that RPA is something that can work in the Singapore public service."

Tan pitched the concept to senior management of government agencies, and so far 18 agencies have implemented it. To build a strong case, she was careful in picking the first few partners. "We didn't pick agencies that were not interested in our pitch. I already had people who believed enough to be on the project."




She was also particular about the projects that each agency worked on. "We purposely chose processes that could be found useful or replicated by other agencies," she says. This would allow others to easily learn and implement similar projects in their own agencies.

In many cases, the project gave the teams an opportunity to completely overhaul the way they work. The Public Service Division brought departments together to discuss their daily operations, identify shared outcomes, and brainstorm ways to streamline their work. "This process of redesigning is very important, because we do not want to automate a broken process," Tan says.

RPA in action

The government's first pilot was in the Accountant General's Department last year. Auditors collect sample data from government agencies to run checks. This previously required them to go down to the offices, collect the data, and bring it back to their department to analyse. This opened up the data to security risks, and was of course time consuming.

AGD piloted a bot to audit payroll increments, performance bonuses and salaries. It assesses the data on the spot by running it through algorithms and surfaces anomalies within minutes, Tan says. "Auditors actually spend a lot less time doing manual, boring, repetitive tasks, and they focus on the more complex issues."

Another example is from Tan's own agency, PSD, which introduced bots to onboard new hires. Once a new employee is confirmed, the bot performs a series of tasks including assigning them a laptop and phone number and creating an access card. It now takes 7.5 minutes, down from 76 minutes, to complete this work. "It used to take two weeks for a new hire to get their access card, but now they get it on their first day," Tan adds.

These were tasks done by three separate teams in the past. The RPA project got them to come together and look at how the entire process can be improved from the user's perspective, explains Claire Lee (above left). She leads this project and is Senior Assistant Executive, Workplace Management and Registry, Corporate Services. "We got together and collaborated to see what are some of the processes that could be redesigned. We had to tweak them to fit into one flow for the RPA bot to run the whole process," she says.

A third example is from the Ministry of Trade and Industry, which is using bots to track progress on the Industry Transformation Maps. The bot collates information from agencies across the government into a standardised report, sends out reminders on when they are due, and escalates it to a civil servant if agencies miss their deadlines.

Procurement and skills

The scale and novelty of the project meant that the government had to adapt the way it procures and works with the vendors. The idea was to make it as easy as possible for agencies to try out RPA, says Tan. The contract was awarded by PSD, which managed the relationship with the vendor and "embedded" itself into the agencies to run each of the 18 projects, she ads. The agencies did not need to work out separate contracts with companies and could avoid the risks of buying a new technology.

This has led to a much broader change to fast-track RPA procurement across the government. The GovTech agency has called for a "bulk tender" on RPA, which will allow agencies to buy services from pre-approved companies without going through the entire procurement cycle. "Agencies can just tap on and leverage to contract whatever services they need to either introduce RPA or to scale up RPA within the agency," Tan explains.

A second significant shift as a result of RPA is in skills. Civil servants are learning to build and maintain bots, and manage projects to introduce technology in their teams. For instance, through the PSD onboarding bot, "Claire has upskilled herself and expanded her capability to include bot maintenance", Tan says.

The RPA project is part of a broader agenda to adapt the role of civil servants with technology. The Public Sector Transformation movement is introducing other tools in government, like a real-time analytics dashboard for HR called ODIN.

HR leaders get access to data on workforce trends, like re-employment and turnover patterns, in their agencies, and can benchmark against aggregate metrics from other agencies. On a broader level, the HR data allows PSD to create more tailored recruitment policies. For example, it can track a spike in officers working part-time or moving to other jobs within the government.

What stands out about the RPA project is how optimistic Tan is about its impact. "We were very excited by it. I shouldn't say love at first sight but it was very, very nice," she says. The robots are being designed to improve jobs, and as a result, civil servants are being trained to work with them. And yes, some of them have even gotten their own birthday celebrations.