A Sustainable Johor Rooted in Resilience
Registration closed
The event is currently not accepting new registrations for the event. We're very sorry for the inconvenience. If you have further questions, please contact us here.
Welcome Remarks & Keynote
Opening Plenary: A Sustainable Johor rooted in resilience
Flash floods and food shortages have plagued Johor in recent years, as the effects of the climate crisis continue to batter its shores. From food security to urban planning, Johor needs to take action now to ensure that it is able to weather the storms of the future.
"A Sustainable Johor Rooted in Resilience" brings together government and industry leaders, innovators and regional experts to discuss, address, and seek to solve some of these pressing issues. In the course of the panel discussion, attendees can expect to gain a deeper understanding of key challenges facing Johor and uncover the solutions and technology available to address them.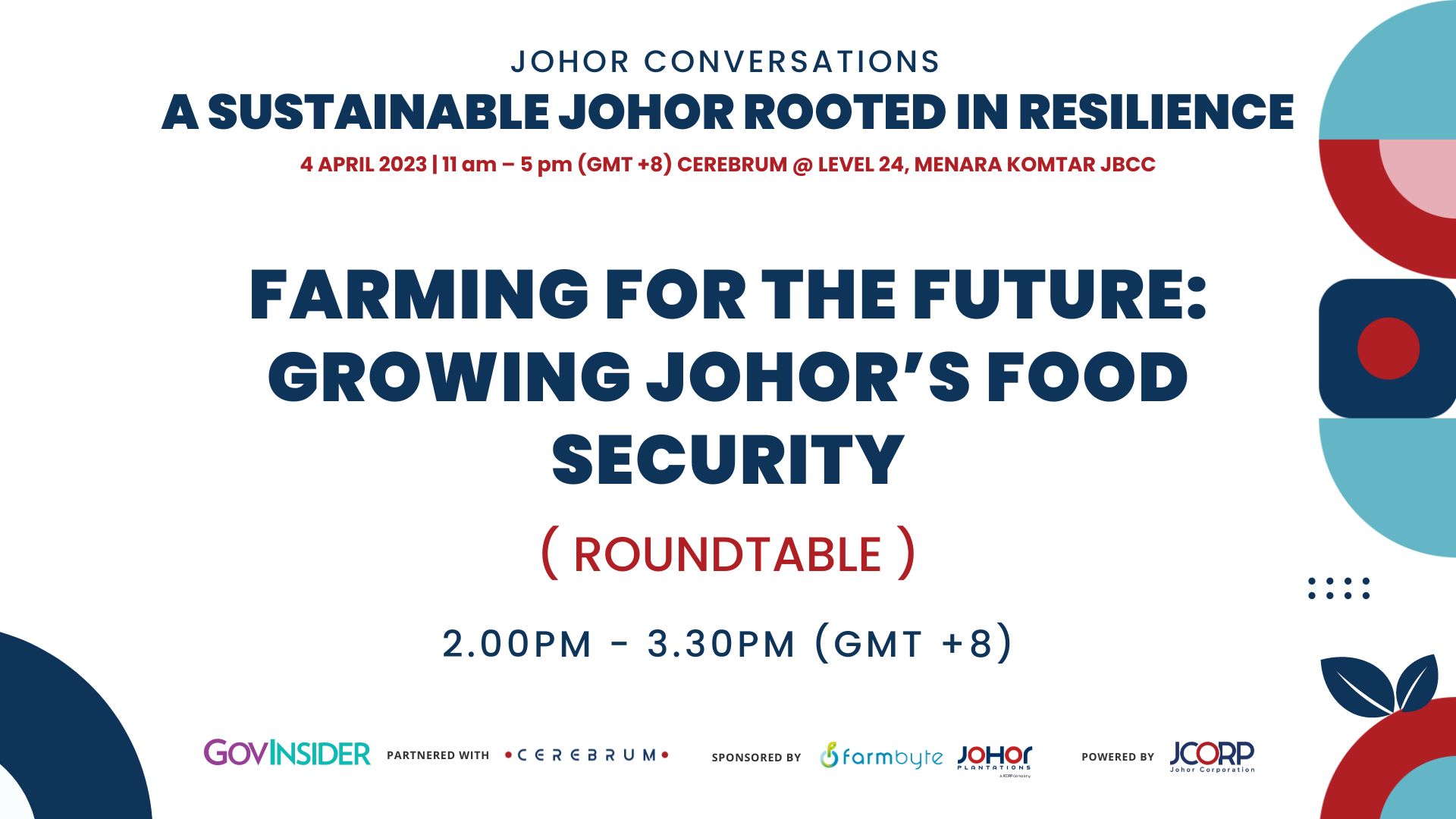 Farming for the future: Growing Johor's food security (Roundtable)
Eggs, cooking oil, vegetables, and even french fries – Johor has faced shortages of all these foods in the past year alone. Johor's agricultural sector and food supply chain is now in danger as a result of rapid urbanisation, climate change, and the continued competition for land and water.
"Farming for the Future: Growing Johor's food security" will bring together government leaders, industry experts across the agricultural and food production sectors, as well as regional experts to address these challenges. Attendees will explore how digital technologies can promote greater resilience and reliability in food production, as well as the need to maintain a green and efficient supply chain to ensure fresh produce and minimise wastage.
Attendees at this roundtable will have the opportunity to discover the latest advancements and thinking in the field, hear from industry leaders, participate in thought provoking discussions and sow the seeds of a more resilient food supply for Johor, Malaysia, and beyond.
Weathering the storm: Building a climate-resilient Johor (Roundtable)
Johor is no stranger to the devastating impact of flash floods and droughts, having fallen victim multiple times in recent years. But it's not all doom and gloom. "Weathering the Storm: Building a Climate-Resilient Johor" explores ways to safeguard our urban areas and infrastructure from the effects of climate change.
This roundtable discussion brings together government leaders and experts from the fields of urban planning, architecture and disaster management to discuss, divulge, and discover the most pressing concerns of the region, and available solutions to address them. Join like-minded peers and regional experts to uncover the best case studies in disaster management and urban planning, and seek ways to implement lessons learned to the Johor region.
From cutting-edge building materials and construction techniques to innovative land use and water management strategies, this session delves into the latest developments and ideas for fortifying cities against the forces of nature.
Smart for Sustainable Development (Roundtable)
Low-carbon. Circular. Climate resilient. These are some of the key goals for the development of Johor as laid out in the Low Carbon Society Blueprint for Iskandar Malaysia, which has been a pioneer in driving low carbon development within Malaysia. And big data and data analytics will be necessary to monitor Johor's energy and resource consumption patterns, and to derive actionable insights that policymakers can apply to meet these goals.
The roundtable will bring together government leaders, thought leaders, and technologists to discuss their insights on how Johor can transition into a smart and sustainable city. The discussion will focus on the challenges faced along the pathway to becoming a sustainable model for other states in Malaysia and the role big data and data analytics will play in enabling Johor's transition into a state that conserves resources, minimises waste, and develops sustainably.